Car Accent Light 96″ ARGB Side Underbody Kit Strips APP Control
96″ side car accent light underglow kit is ARGB multi-color light. It's the new generation auto atmosphere light. With App driven function, it can be controlled by TRENT LED App, project rapid scan animations with various color lights at same time.
In our amazing Music animation modes, LED stirp light will react the voice of music, provide most wonderful atmosphere to your driving.
Except beautiful light performance, our LED light strips are also super easy installation due to 100% flexible and waterproof.
Why TRENT?
TRENT is the factory of auto LED lighting with OVER 11 YEARS experience.
Cooperating with TRENT has no middle cost, get the most competitive price.
We are the supplier of US Walmart with SEDEX certification.
TRENT has very strong R&D and Artwork Teams, can provide customized development and design services.
We have stronger production capacity, over than 50,000 kits monthly of various lights and bulbs.
Application
Automotive decoration light.
Auto warning light.
Car underbody light.
Exterior light kit.
Car Accent Light
Bluetooth APP & RF Remote Control
A. Bluetooth APP Version
Controlling the light kits by mobile phone App.
Unlimited color wheel for selection.
DIY Multi-color preset function.
25 different preset animations (like Strobe, Rapid scan, Music etc.)
Microphone & Music list animations: light reacts the songs.
Adjustable Brightness and Speed.
B. RF Remote Control Version
16 Color options.
20 Modes option (like Strobe, Flash etc.)
Adjustable for Brightness and Speed.
RF remote control.
APP Music Mode
Microphone animation: LED light will light up based on the environment voice.
Music list mode: light strips will follow the music tune of your mobile phone.
Solid color & RGB multi-color modes.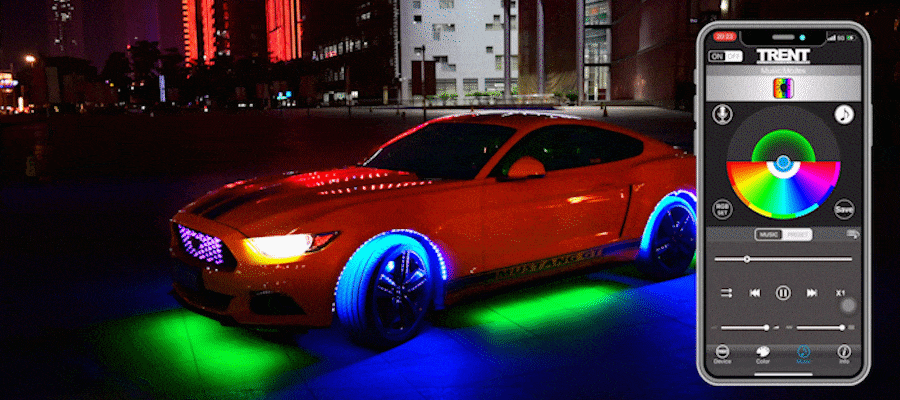 Completely IP67 Waterproof
Equivalence of IP67 Waterproof, protect light kit from various wethers.
Anti-water glue is inside Strip light, 100% sealed after connecting.
Unique Micro connector (designed by TRENT), is able to stop all liquid from entrance.
If the cable length is not enough, there is extension cable wire you can purchase. The cable wire is 12′ per pc, 2pcs/set, can meet your DIY requirement.
3 Times Brightness & Easy Installation
96″ underglow adopts 108pcs Multi-color LEDs total, 3 times brightness compare with other normal products.
Side underbody light, can light up left & right sides of vehicle underbody.
100% Flexible, can be mounted on almost everywhere by yourself.
With 3M tape, mounting clips & screws etc. for installation.
If you need longer cable wire, then 

#31621

 extension cable wire can meet your requirement. The cable wire is 12′ per pc, 2pcs/set.
Product Including:
24″ ARBG Flexible strip light *4pcs.
Extendable cable wire *2pcs.
Control box with wire *1pc.
Power source wire with fuse *1pc.
Screws *26pcs.
3M tape *1pcs.
Plastic mounting clips *12pcs.
End caps *2pcs.
RF Remote Controller* 1pc (if not APP version).
Specifications
Product Name: 96″ Side Underglow Car Accent Light.
LED per stirp light: 27 RGB LEDs.
Brand: TRENT, or customized logo.
Wattage: 7.2W per strip light.
Voltage: DC 10~14V.
Color: ARGB Multi-Color.
Working Environment: -40~80℃
Control: APP driving, or RF remote control.
Installation: 3M tape, Plug&Play, Direct Hardwire Line.
Warranty: 12 Months.
Additional Info.